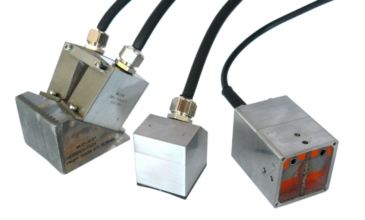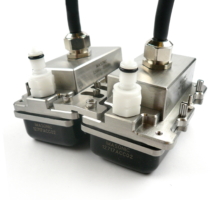 Typical Applications
Wrought / cast stainless steel components, austenitic structures

Dissimilar metal welds

Clad components

Safe end / sub clad of nuclear vessel

Pressurised welds
Principle
Thanks to the acoustically isolated transmit and reveive transducers, the emitted wave does not interfere with the received wave, allowing a reduced blind zone under the surface, and a better signal to noise ration for the inspection. The angle between transmit and received transducers helps to reduce the level of back scattering echoes.
The transmit and receive transducers can be of various types:
Monolithic : No possible variation on refracted angle and focusing depth.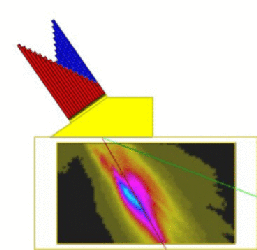 Linear transducers allow a variable refraction angle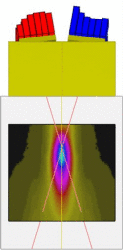 Matrix transducers also allow the beam crossing depth to be varied ...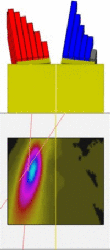 ...and the beam to be deflected laterally
Integral or removable ?
TRL/SE probes can be either integrated or with removable wedge. Both concepts can be used with monolithic, linear or matrix probes
Integral probes
They are dedicated to industrial use with fixed configuration. They are more compact and easy to handle with a scanner, but the wedge angle and transducer position are fixed.
Removable probes
They are more flexible as the wedge geometry and transducers position can be changed by changing the wedge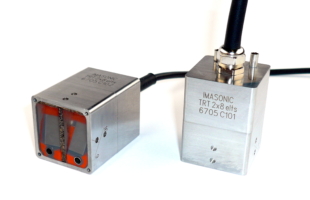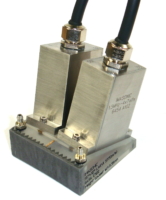 Advantages or TRL/SE probes
Possibility of steering and skewing (matrix only) the beam
Absence of dead zone
Focusing effect in the beam crossing region
Improvement of defect response
Reduction of the backscatter signal
Improvement of signal to noise ratio
General Characteristics
Frequency from 500 kHz to 5 MHz
Unlimited number of elements, typically 2 x 16 to 2 x 128
High S/N ratio and optimized pulse length thanks to acoustic matching to wedge material (Rexolite, Plexiglas, PEI, etc)
High acoustic insulation between transmit and receive sides
High reliability over time thanks to a robust, watertight design, compatible with difficult industrial environments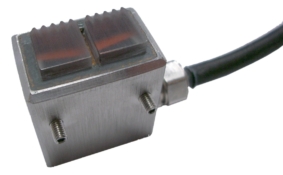 Example of integral TRL phased array probe with water inlets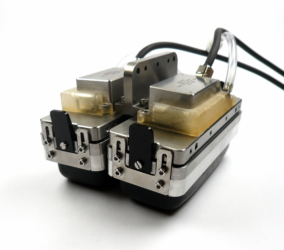 Example of dual matrix TRL probe with conformable wedge
Options
Housing customized for the mechanical environment (inspected parts, scanner, wedges, etc)
Customized connection
Adaptation to a particular environment (temperature, pressure, radiation, chemical compatibility)
Halogen-free for nuclear environments
Water inlets